The only software for parallel analysis of soil shear failure and foundation settlement for bearing capacity analysis!
PEYSANJ geotechnical software covers a wide range of day-to-day engineering analyses. includes the following analysis modules:
Bearing capacity and settlement analysis
Detailed stress distribution analysis due to:

surcharge load behind retaining walls
footing pressure (crane pads, wall, pad footing, etc)

Earth lateral pressure coefficients
Plate Loading Test (PLT) data processing
Pressure-Meter Test (PMT) analysis
Bearing Capacity Analysis
PEYSANJ is the only software you need for your bearing capacity analyses! Many jobs are too complicated for a simple Excel spreadsheet calculation and need more sophisticated analyses for multi-layer stratigraphy, water level effects, and so on. Here are some of the features provided by PEYSANJ: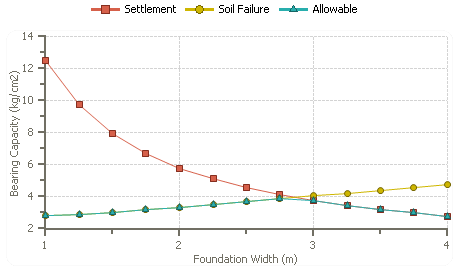 Allowable bearing capacity should meet both shear failure and settlement criteria. PEYSANJ uses "Hansen" method for analysis of soil shear failure by considering the effect of groundwater table in bearing capacity analysis. For settlement analysis, "Steinbrenner and Goodier (Timoshenko)" and rigid foundation formulas are used. Both immediate (elastic) settlement and one-dimensional "Terzaghi" consolidation formula are estimated for settlement analyses.
Total settlement of the footing is then calculated by summing up the elastic and consolidation settlements. For each footing size, the minimum values of allowable stresses for shear failure and settlement criteria are compared and the introduced as the "Allowable Bearing Capacity" of the footing.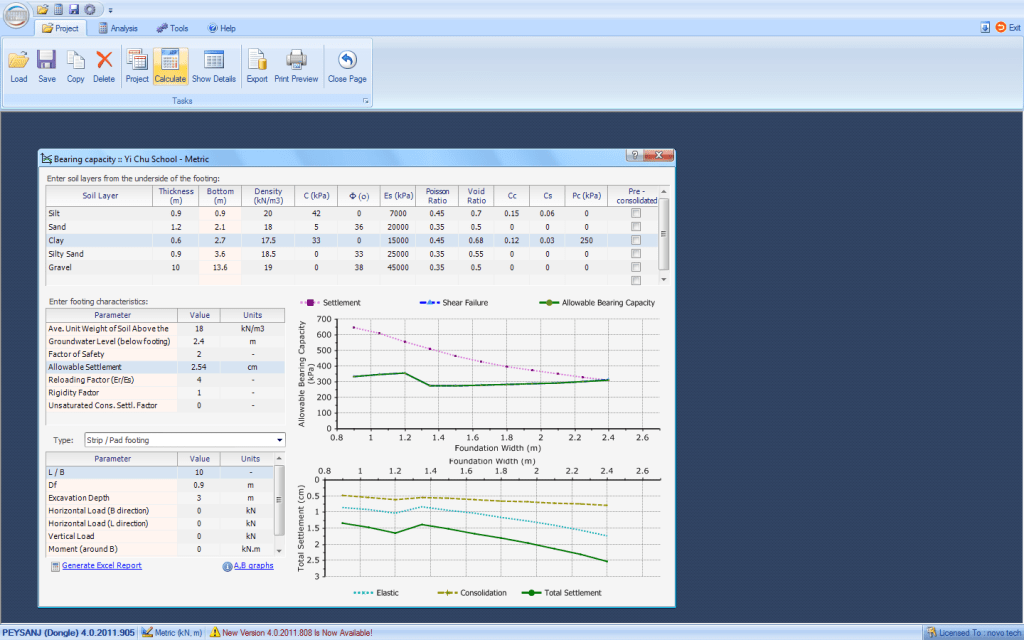 The details of all bearing capacity and settlement calculations are presented in a table. In addition, the results can be exported in Excel file for edit and further presentation purposes.